Extraordinary Stories - Jennifer O'Brien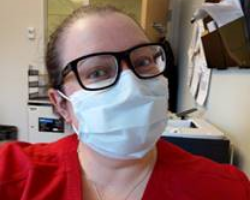 "Trying to keep our patients safe has always
been and will always be my top priority."
 - Jennifer O'Brien, RN, BSN, OCN® Millford, MA 
An Oncology Nursing Society member since 2014, Jennifer O'Brien, RN, BSN, OCN®, has worked in medical oncology for the last nine years.  She serves as President of the Southern New Hampshire ONS chapter, and is a past awardee of an Oncology Nursing Foundation Congress Scholarship. 
Jen recently began working as an oncology nurse navigator in the Dana-Farber Cancer Clinic at Milford Hospital in Massachusetts. In her role, she educates and tracks patients through their oral chemotherapy treatments, assists them with FMLA and disability paperwork, and triages incoming clinic calls.  
"Since the COVID-19 pandemic has started, the majority of my time at work has been spent discussing the pandemic with our cancer patients. My fellow oncology nurse navigators and I would describe the bulk of our days as talking to our patients who have screened positive from a questionnaire and setting them up for COVID screening. We also speak to our patients on the telephone about whether it is safe to come into the clinic for their cancer care and address their worries about treatment delays. Trying to keep our patients safe has always been and will always be my top priority."
Oncology nurses are skilled at helping patients cope with the fears and anxieties that accompany serious illness, which is being felt even more in the pandemic context. With their special knowledge of caring for vulnerable patients, oncology nurses such as Jen bring meaningful experience to navigating cancer care during the pandemic in our communities.