Your Contribution in Action
Dear Oncology Nursing Foundation,
As part of my requirements for receiving a scholarship, I was to provide follow-up on the completion of my education. First and foremost, having received funding for my Master's, I was most grateful to again be granted a scholarship for my doctorate. As I am sure you are aware, funding one's education is a job within itself.
In May of this year, I graduated from the University of San Diego, Hahn School of Nursing Science, Betty and Bob Beyster Institute for Nursing Research and Simulation. My clinical doctoral work throughout the two years I was there focused on survivorship care and implementation of survivorship care plans for women completing adjuvant treatment for breast cancer. I implemented this project in a single office of a large multi-office private community based practice in central and southern California. I am happy to report that my project was a huge success.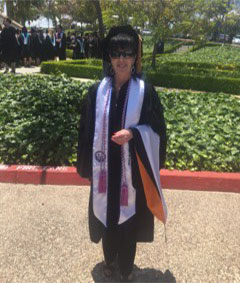 Women attended a single survivorship visit where they were given a treatment summary and survivorship care plan, which was reviewed with them and sent to all the primary providers of care. Measurements showed an increase in knowledge, pre and post visit as well as high-level satisfaction. Satisfaction was also high among the providers. In addition, my implementation plan allowed for the practice to appreciate a small economic gain with this intervention. 
In the coming year, I will be rolling out this intervention to all seven of our community-based offices as well as expanding the intervention to colon cancer survivors. My overall goal is that all patients receiving treatment with curative intent will have a treatment summary and survivorship care plan delivered in a survivorship visit at the completion of primary adjuvant treatment. My manuscript, "Transitioning Care after Breast Cancer Treatment: Implementing Survivorship Plans" is tentatively scheduled to publish in the October issue of the Journal of Oncology Navigation and Survivorship. The project was also nominated as the University of San Diego's entry for the American Association of Colleges of Nursing outstanding DNP project award.
I continue in my clinical practice 32 hours a week as a nurse practitioner, providing care to a diverse population of oncology and hematology patients. This month I began a part-time faculty position at the University of San Diego as a clinical facilitator and eventually will be teaching the parts of the curriculum related to cancer screening in the Family Nurse Practitioner program. I am very excited about the opportunities that my masters and doctoral education have provided for me.
I thank you, the Oncology Nursing  Foundation, and all those who have contributed to this fund, for the support that has helped me to complete my education and provide an advanced level of care to the population that I serve.
 Sincerely,
Susan Hope Klein, DNP, FNP-C, OCN
Click HERE to download the full article